When & where
This section is about PrioritEE PLUS project that started in March 2021

---
Duration: 03/2021 - 06/2022
Responsible partner: CNR-IMAA​
Participation partners: all partners
​Location of the activities: Potenza, Terni, Area Metropolitana de Lisboa, Zaragoza, all PP and AP territories and location of national events (14 Regions)​
PrioritEE PLUS, funded under the Fourth call for Modular projects of the Interreg MED Programme, aims to capitalize on the experience of the previous PrioritEE project and improve, through transnational cooperation, the capacities of public authorities in the energy management of PBs and local sustainable energy planning. In particular, it will support the use of analytical tools for informed decisions and the promotion of replicable technical solutions in different MED territories.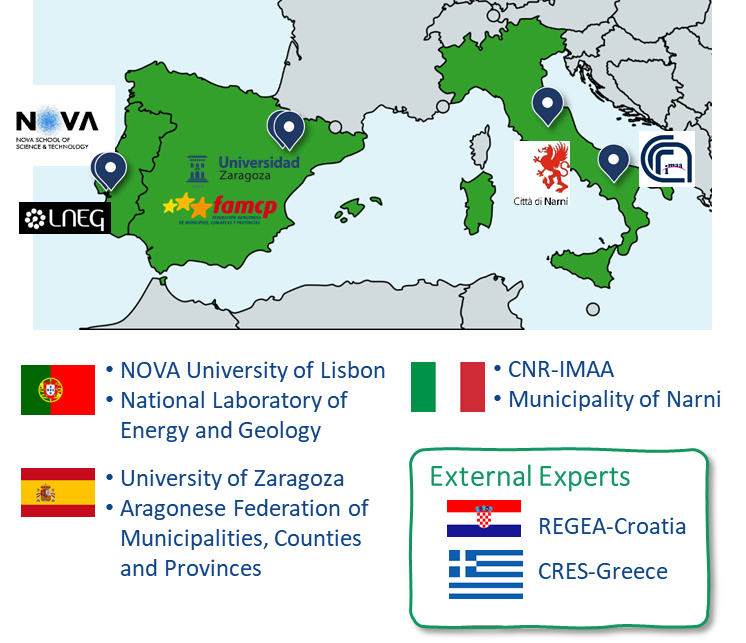 This section is about PrioritEE project that was implemented from February 2017 and will last until July 2019.
---
The PrioritEE project with the full title «Prioritize energy efficiency measures in public buildings: a decision support tool for regional and local public authorities» benefits from the European Community funding within the «Interreg MED programme 2014-2020» under the Priority Axis 2 «Fostering low-carbon strategies and energy efficiency in specific MED territories: cities, islands and remote areas», Specific Objective 2.1 «To raise capacity for better management of energy in public buildings at transnational level»
The project started in February 2017 and will last until July 2019 (30 months).
The map below, shows where the parners and where the testing areas are: